The Site
The event will take place in the Bicolline's duchy. In a setting of about fifty medieval buildings, the site offers many attractions including two inns, merchant stalls and a natural amphitheater. A magical setting that will make us dream day and night. The Bicolline site is the largest LARP site on the continent.
To preserve the site's medieval atmosphere, those who have a modern tent will have to camp in the "non period" area (which is still very well located near the Inn). Those who have a medieval tent will be allowed to put them anywhere on the site (except for places already reserved for activities).
And to motivate you to visit us, Here's the view of Bicolline's main inn !
ACTIVITIES
Here's a short list of the scheduled activities
Stay tuned for the actual timing !
Royal Court
Saturday
6:30 to 8:30 PM
The royalty will grace us with their presence, all shall rejoice at their Grace's royal court !
SCA Heavy Combat
Saturday
9 to 10 AM
Inspection and authorization
10 AM
Unbelted tournament
11 AM
Town Battle
1 PM
Unbelted vs world melee
1 to 4 PM
Pickup
9 to 10 PM
Gladiatoria

Arts and Sciences
Friday and Saturday
Friday 9h30 PM
Bardic circle
Saturday 10 to 11 AM
Class: Herborism
Saturday 10:30 to 12 AM
Class: Embroidery
Saturday 1 to 2 PM
Class: Posaments
Saturday 2h30 to 4 PM
Class: Henna
Saturday 2h30 to 4 PM
Class: Princess's tea
Saturday 3 to 4 PM
Class: SCA 101

Archery
Saturday
9 to 12 AM
Practice
9 to 12 AM
Royal round and Golden Leaf Tournament

Fencing
Saturday
9 to 11 AM
Inspections, authorization & pickups
11 to 12 AM
Tavern Brawl
12 AM to 1 PM
Kill them all
1 to 3 PM
Town Battle
3 to 6:30 PM
Pickups arena

Thrown Weapons
Saturday
10 to 12 AM
Practice
1 to 3 PM
Gungnir tournament
3 to 6:30 PM
Practice
10 PM
Throwing Weapons luminous

Equestrian
All 3 days
Friday 6 PM
Authorisation
Friday 7 PM
Exploring trails
Saturday 9 AM
Practice
Saturday 10 AM
Game with points
Saturday 1 PM
Aerobatic demo
Saturday 2 PM
No contact jousting competition
Saturday 4 PM
Trail in town
Saturday 5 PM
Procession
Sunday 9 AM
Liberty training

And the rest...
Saturday
10 to 12 AM
Family Activity with Abigail
3 to 4 PM
Annual Bath
8:45 PM
Beginning of the festivities

Merchants
Located in Bicolline, the site provide multiple stalls and booth for those of you that are interested, so feel free to use the
contact form
at the bottom of the page if you want to have more details.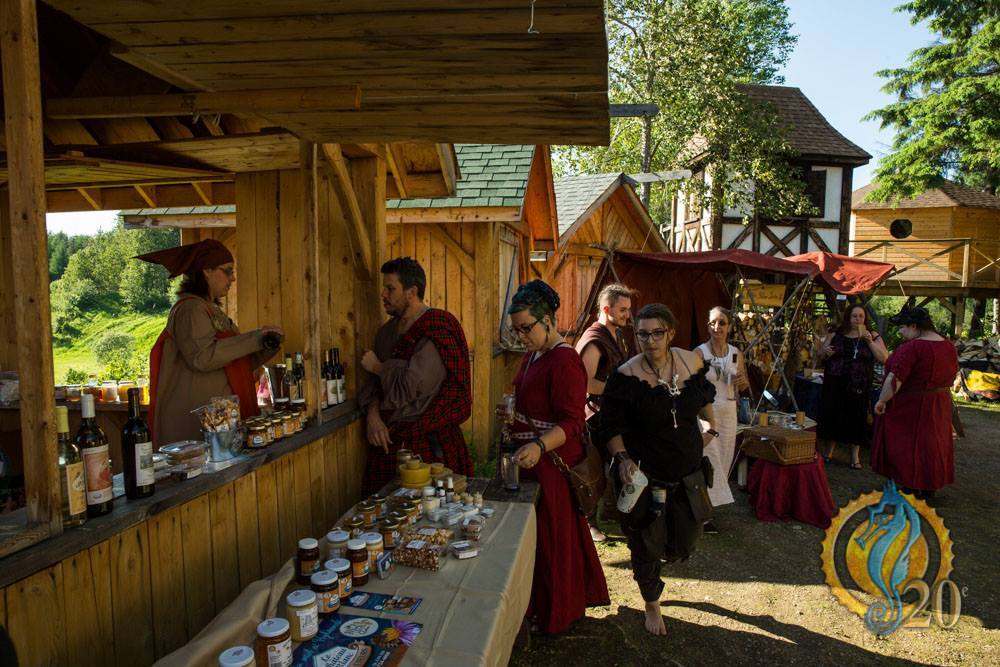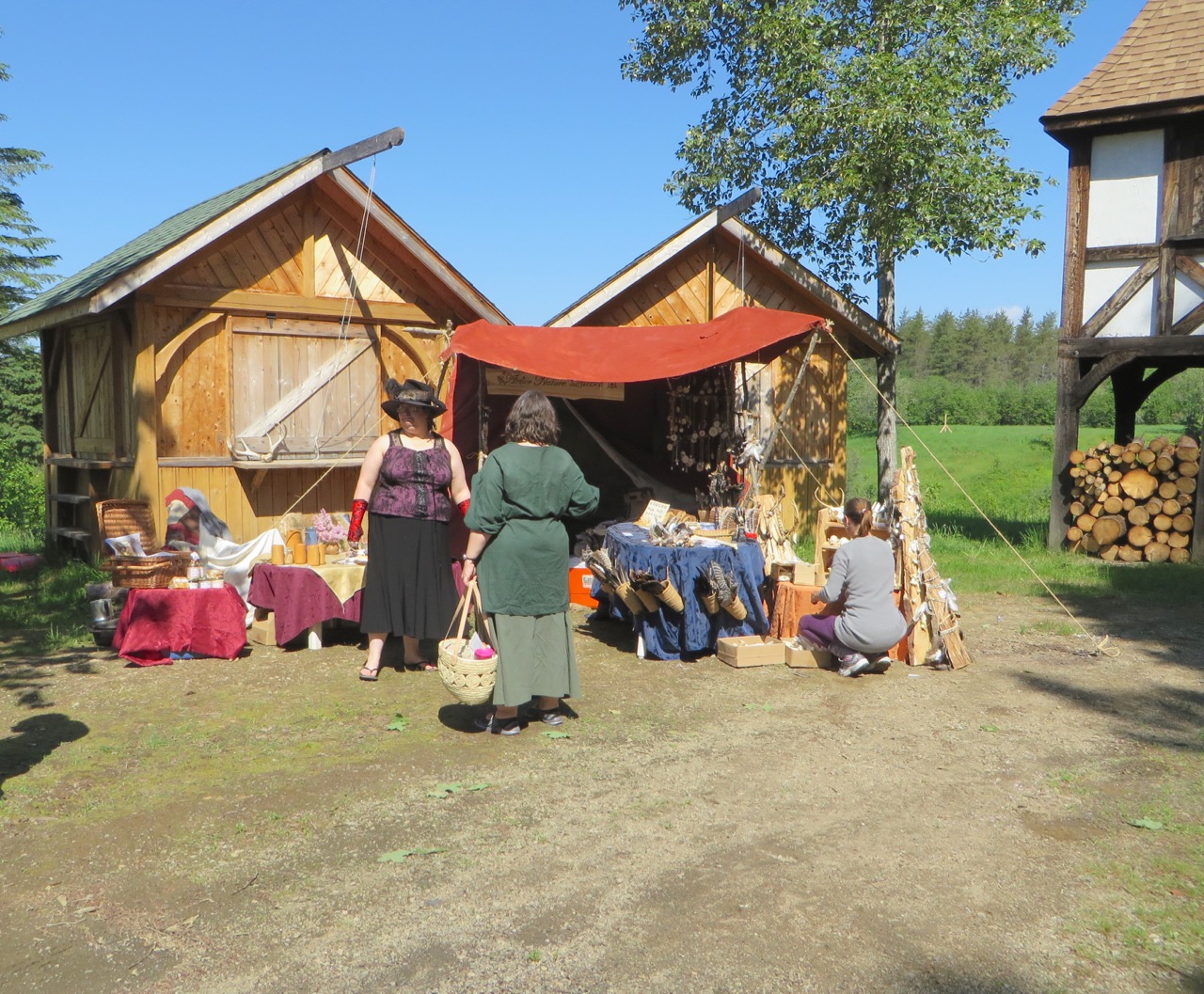 Good to know
Prices for the event if you pre-register are :
Members : 35$CA or 30$US
Non-Members : 40$CA or 35$US
Under 16 years old : Free
Price include access to the site, and participation to all the activities.
To preserve the site's medieval atmosphere, you need to be dressed in a medieval fashion. If you don't have anything of the sort, you can write to Syrine At-Sakina Bint Hourya who will try to help you get you some clothes. She can also help you if you need anything for the feast gear (and if you don't know what it is, she'll help you to understand all the wonders you're about to discover !
Speaking of the feast, here's everything you have to know for the meal plan this year. You won't need to make a reservation this year, you'll just have to pay right on the spot (with Canadian dollars).
Here is the menu with the prices :
Breakfast ($7.50)
- Sausages
- Bread and bagels
- Scrambled eggs (or eggs as you like them)
- Muffins
- Seasons fruits
- 'Creton'
- Beans (vegetarian)
- Juice and coffee
Lunch ($9)
- 1/3 of chicken baguette sandwiches
or
- 1/3 of vegetarian baguette sandwiches
- Salad bundle and fruits
- Hardboiled egg
- Cheddar cheese
- Fruits or chocolate oatcakes
Diner ($14)
- Soup
- Bread and butter
- Peppers hummus
- Meatballs
- Beets salad
- Spinach salad
- Vegetarian moussaka
- Greek potatoes
- Braised vegetables
- Les Rôts des Conquérants (Porc and chicken)


Eating time :
Breakfast : Saturday, 7 to 9 AM
Lunch : Saturday, 12 AM to 1:30 PM
Dinner : Saturday, 4:30 to 6:30 PM
Activities of been updated !! Please check the activities panel to see the schedule ! Please note the following informations :
Troll hours :
Friday : From 3 PM to 1 AM
Saturday : From 7 AM to 3 PM
The inn will close Sunday at 11 AM, and the site will be closed at 1 PM.
If you have any questions, feel free to use the contact form and we will try to answer you as soon as we can ! Or you can also go on the Facebook page or the Facebook event page and ask your questions there if you prefer, and we'll try to help you as well !
CONTACT
If you have any questions, feel free to use this contact form, we'll try to come back to you as soon as possible !